Akira Mori Biography, Family
Akira Mori born on 12th July 1936. He is the Top Four Richest Japanese businessman and is the president and CEO of Mori Trust. The company which was founded in the year 1959 by his father. Akira is a very practical businessman.
After completing his Graduation in the year 1960 from Keio University. he joined Yasuda Trust & Banking. After Getting Knowledge on this field he joined his father company as an employee in the year 1972.
Akira Mori Was very much interested in real estate business. He slowly started to expand his business. Within no time He spread his business into different cities in Japan. The Mori Trust owns 67 buildings including offices and residential buildings in various cities of Japan.
After the death of his father in the year 1993. He and his brother took over his father business. Akira used to look over Mori Trust while his brother took care of the Mori Building Company.
Akira Mori Family
Akira Mori Parents
Akira Mori father Taikichiro Mori was born on 1st March 1904. He graduated from Tokyo College of Commerce in the year 1928. He was married to Hana Mori and they have four children including Akira. In 1932, he was appointed as a Professor at Kyoto Sericulture Technical High School.
Mori Building came into the act after his retirement as Dean of Yokohama City University in 1959. In the year 1991-92, he became the richest businessman in Japan due to his company success. He died in the year 1993.
Akira Mori Siblings
Akira Mori has three siblings. Two brothers and one sister. His sibling's names are Kei, Minoru(Brothers) and Aiko(Sister).
Kei Mori and Aiko Mori working as professors in a reputed institute in Japan.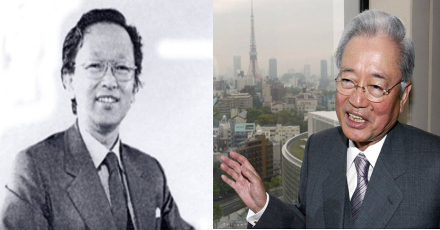 Akira Mori brother Minoru Mori was born on 24th August 1934. He is an impact businessman. He was among Japan's most powerful building tycoons. He graduated from Tokyo University and joined Mori Building along with him Kei Mori also holds the shares of Mori Building. He was the CEO and President of the company.
Minoru Mori Wife
Minoru Mori was married and had two children. He has acquired various challenges in the field of business and came across it. He was named as Asia Businessman of the Year 2007. He created China's tallest building in the year 2008; Shanghai World Financial Center. He died on 8th March 2012.
Akira Mori Children
Akira Mori is married and has three children.
Akira's Daughter: Miwako Date
Akira Daughter name is Miwako Date. She went to Sacred Heart Private Girls' School in Tokyo. She graduated in media and governance from Keio University, Tokyo.
Much like her father, After her graduation, she started working at a Japanese consulting firm. Later in 1998, she decided to join the family business and started working at Mori Trust. She has taken Mori trust to next level in business.
She became Executive Managing Director of Mori Trust in 2008. Today, she is the President of the Mori Trust Hotels and Resorts Co. She is also the Chairman of Mampei Hotel, Karuizawa. Miwako is Looking at the business in the areas like construction management, real estate development, etc.
Akira Mori Networth
Akira was in the Forbes Lists of Billionaires in 2016 at rank 286. He has a net worth of $4.3 Billion. In 2016, he was also listed under Japan's 50 Richest People's list at rank 6.
Tags: Akira mori story, mori family, Akira mori business, Mori Trust, Business family