Alan Jackson Biography, Family
Alan Jackson is a song writer and country music singer. In a world where rock music is taking over all music genres, Alan made a dent to keep the country music alive.
Alan was born on October 17, 1958 in Newnan, a small town in Georgia to Eugene Jackson and Ruth Musick. Alan has four sisters, He lived with his family in his grandfather toolshed.
Alan went to Elm Street Elementary and Newnan High School. In his childhood he was not keen to music. Alan Jackson grownup by listening to Gospel music in church. He began developed his interest towards music when his friend introduced him to the music of famous country singers Gene Watson and John Anderson.
Alan Jackson married his high school friend Denise in 1979. Before entering into music Alan worked has postmaster, construction worker and airline baggage handler. During 1985 Alan wife Denise worked as a flight attendant, One day she met singer Glen Campbell in Atlanta Airport. Denise told him about her husband interest in music who wants to become a singer. Glen Campbell helped Alan and referred him to Arista Records.
Alan's debut song "Blue Blooded Woman" released in 1989 under the Arista Records. His second album Don't Rock the Juke box was released in 1990 which consists hit songs "Love's Got A Hold on You" and "Dallas".
Alan Jackson albums were sold over 60 million and he became the most prominent country singer. Alan received two Grammy Awards, 17 ACM Awards, 16 CMA Awards and 46 ASCAP country song Awards.
Alan Jackson Family
Alan Jackson Parents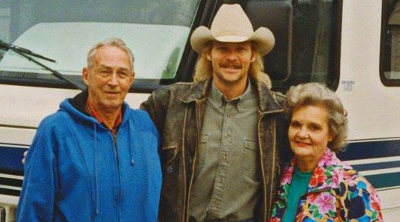 Alan Jackson father name is Eugene Jackson and Alan Jackson mother Ruth Musick, she was passed away in 2017.
Alan has four sisters,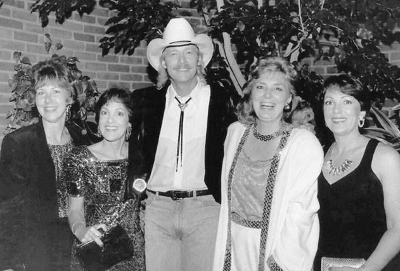 Cathy Jackson Wright, Carol Jackson Glover, Diane Jackson Dawson and Connie Jackson Davis
Alan Jackson Wife
Alan Jackson married Denise in 1979. She worked as a flight attendant. Alan and Denise got separated for few months over the issue of Alan's infidelity. The couple were reunited when Denise forgive Alan adultery relations and accepted him to her family. In 2010 Denise was diagnosed with breast cancer.
The couple has three daughters.
Mattie Denise Jackson, Alexandra Jane Jackson and Dani Grace Jackson.
Mattie was the eldest daughter of Alan, Mattie was a certified sommelier and she owns a wine bar in Nashville.
alan jackson daughters, alan jackson wife death, alan jackson parents, alan jackson albums, alan jackson songs