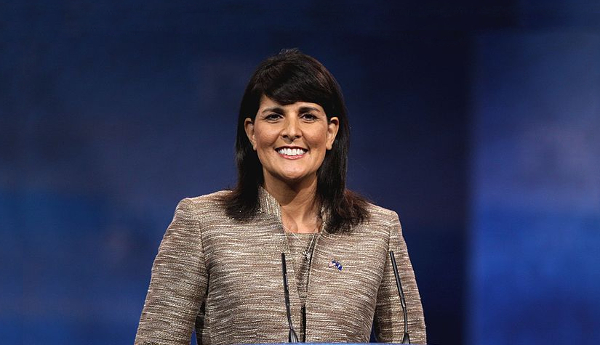 Nikki Haley Biography, Family
Nikki Haley is an American politician who served as United States Ambassador to the United Nations. Haley has Indian-American ethnicity. Her full name is Nimrata Nikki Randhawa Haley.
Nikki was the first female governor of South Carolina and also Nikki was the first non-white person to be served in the US Ambassador position.
Nikki Haley was born on 20 January 1972, in Bamberg, South Carolina to Indian immigrants. Her birth name is Nimrata Randhawa. "Nikki " is her nickname called by her parents which means "Little Ones" in the Punjabi language.
Nikki attended Orangeburg Preparatory School in South Carolina. In 1989, Nikki graduated from Clemson University in the field of a bachelor degree in accounting.
After graduation, Haley joined FCR Corporation, which was a waste management and recycling company. Later she entered into her mother's clothing business Exotica International. Haley served as the controller and CFO (chief financial officer) and Haley played a crucial role in making Exotica International a billion dollar business.
Haley business analysis and leadership skills made her board of directors in Orangeburg County Chamber of Commerce and Lexington Chamber of Commerce.
Nikki's political journey started in 2004 when she contested elections of South Carolina House of Representatives from District 87, Lexington County. Haley was re-elected for three consecutive terms in 2004, 2006 and in 2008.
In 2009, Haley announced that she would contest for the South Carolina Governor elections in 2010 as a Republican party candidate.
On 2nd November 2010, Haley won the elections by defeating Vincent Sheheen. Haley became the first female governor of South Carolina and Second Indian-American person after Bobby Jindal.
In 2014 Haley was re-elected as Governor of South Carolina and resigned in 2017.
In 2016 American president Donald Trump selected Nikki Haley to become United States ambassador to the United Nations and it was confirmed on 24 January 2017. On the same day, she resigned from her South Carolina governor position.
Nikki Haley became the first non-white and first Indian-American person to be served in US ambassador to the United Nations.
Haley served one year as an ambassador and on October 9, 2018, she resigned from the position.
Family
Nikki Haley was Indian-American ethnicity. Her parents belong to Sikh religion. Haley was converted to Christianity before her marriage.
Nikki Haley Parents
Nikki Haley parents are migrated from Amritsar, Punjab India. Nikki Haley father Ajit Singh Randhawa, worked as a professor in Punjab Agricultural University before moving to Canada. The couple shifted to Canada when Ajit Singh received a scholarship from the University Of Columbia.
In 1969 he received Ph.D. from the university. Later the family moved to South Carolina in the United States, where Nikki was born and spent her childhood. Haley father worked as a professor at Voorhees College.
Haley mother Raj Kaur Randhawa graduated in law from Delhi University. In South Carolina, she worked as a teacher at Bamberg Public School. In 1976 she started clothing line company Exotica International.
Siblings
Haley has one sister and two brothers. Nikki Haley elder sister Simran is working as the radio host, she was graduated from Fashion Institute of Technology.
Nikki Haley brother Mitti was retired from American army and her second brother Charan is a web designer.
Nikki Haley Husband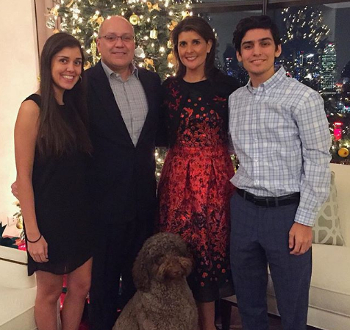 Nikki Haley married Michael Haley in September 1996. Michael Haley was graduated from the University Of South Carolina with a business administration degree. He is working as a technician in the South Carolina Army National Guard. Michael worked at his mother in law business Exotica International before joining the military.
The couple has two children. Nikki Haley Daughter Rina is now in the early twenties and Haley son Nalin was 18 years old.
Tags: Nikki Haley family, nikki haley bio, nikki haley nationality, nikki haely education, nikki haley networth