Shaheer Sheikh Biography – Family
Shaheer Sheikh is an Indian Television Actor, Model and Lawyer. He is best known for his role Arjuna in Mahabharat and Dev Dixit in Kuch Rang Pyar Ke Aise Bhi.
Shaheer Sheikh Nawaz was born on 26 March 1984 in Bhadewah, Jammu and Kashmir. Shaheer attended Hari Singh Higher Secondary School in Jammu. He studied L.L.B from New Law College, Bharati Vidyapeeth University in Pune.
Career
Shaheer Sheikh started modelling when he was studying in Pune. His step into acting has happened accidentally. When he was working in a law firm in Pune, television director Wasim Shabeer asked him to give auditions for Kya Mast Hai Life. Shaheer was selected in that show where he played a role of a young teenager who loves music and playing the guitar. Then he appeared in Sanya show and Sheikh was played Nana Sahib (Laxmibai Brother) role in historical drama Jhansi Ki Rani.
In 2011 Shaheer Sheikh played a lead role in Navya… Naye Dhadkan Naye Sawaal. With this show, he was noticed by the wider audience. At the same time, he was acted in Best Of Luck Nikki.
In 2013 Shaheer signed for Mahabharat an Indian mythological television drama series, In which he played the role of Arjuna. Arjuna was a warrior prince, incredible archer and fighter in epic Mahabharat. Shaheer was well suited for the role of Arjuna, His acting was outstanding and he gave his best performance in his career for Arjuna character. Arjuna role got him a huge fan following and several awards.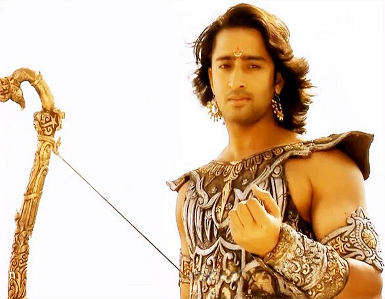 Mahabharat was one of the highest budget television show in the Indian television industry more than 100crores (US$18 million). This show has been dubbed into the several Indian languages and Overseas such as Indonesian, Thai.
The Mahabharat show became the biggest hit in Indonesia and got the huge fan following for Mahabharat cast. So Arjuna role made Shaheer Sheikh step into Indonesian film Industry.  After seeing the Shaheer as Arjun in 'Mahabharat', the Indonesians fell in love with him. Shaeer Sheikh became every girl's crush in Indonesia. He learned the language Bahasa.
In 2014 he hosted Indonesian reality show Panah Asmara Arjuna and The New Eat Bulaga! Indonesia. The following years he did various television series and films in Indonesia.
In 2016 Sheikh played the lead role in Kuch Rang Pyar Ke Aise Bhi opposite to Erica Fernandes. In this show, he played the role of Dev Dixit, a young and intelligent business tycoon who falls in love with her mother's nutritionist Sonakshi Boss. This show was highly appreciated by the audience and it became one of the biggest hit and got a huge fan following show in 2016. This show was again dubbed into many Indian Languages Telugu, Tamil, Malayalam and in overseas languages such as Arabic, Indonesian. For this show, Shaheer won Star of the year award.
In 2017 Shaheer Sheikh played the lead role in Indonesian feature film Maipa and Datu Museng. It was an action based love story, Shaheer played the Datu Museng a warrior.
Because of his handsome looks, Shaheer has been voted as the top 50 sexiest Asian men in an annual poll conducted by UK-based weekly newspaper Eastern Eye in consecutive years 2015, 2016 and 2017.
Shaheer Sheikh Family
Shaheer Sheikh was born into well educated and rich Muslim family in Jammu.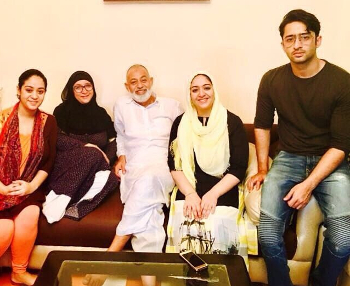 His father is Shahnawaz Sheikh and mother is Dilshad Sheikh. Shaheer has one younger sister.
Personal Life
Shaheer was in dated Indonesian singer Ayu Ting Ting. Now they are separated.
Net Worth
Shaheer Sheikh estimated net worth is $3 million. Apart from movies he owns an Event management company. He own's a luxury villa in Jakarta and in Mumbai. He has a BMW and Mercedes Benz.