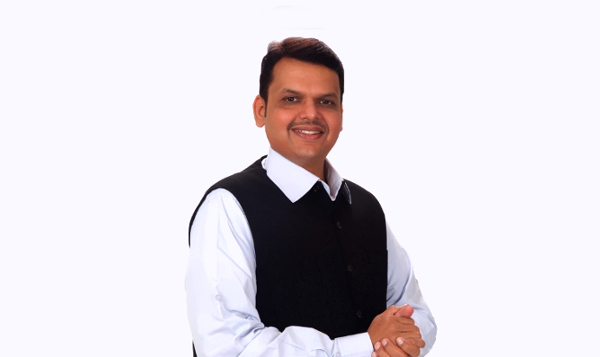 Devendra Fadnavis (Cheif Minister of Maharashtra) Biography, Family
Devendra Fadnavis is an Indian politician from Nagpur, Maharashtra. He is currently serving as the Chief Minister of Maharashtra.
Fadnavis born on 22 July 1970 in Nagpur. His full name is Devendra Gangadhara Fadnavis. His mother Saritha Fadnavis belongs to Kaloti family and His father Gangadhara Rao Fadnavis was a Brahmin.
Devendra Fadnavis did his schooling from Saraswathi Vidyalaya School and later he attended Dharampeth Junior College for Intermediate education. Fadnavis completed Law in 1992 from Government Law College in Nagpur. Fadnavis did his post-graduation in Business Management from DSE, Berlin.
Fadnavis was associated with RSS (Rashtriya Swayam Sevak) organization from his childhood, later he joined BJP (Bharatiya Janata Party). He was an active member in ABVP (Akhil Bharatiya Vidyarthi Parishad) in his college days.
Devendra Fadnavis Political Journey
At the age of 21 he contested and won municipal elections from Ram Nagar Ward, he became the youngest municipal corporator in Nagpur Municipal corporation. After five years in 1997 Fadnavis elected as Mayor for Nagpur Municipal Corporation. His age was only 27 and he became the youngest mayor in the history of India.
Fadnavis contested assembly elections from Nagpur in 1999, from that time till 2014 he has been elected as Member of Legislative Assembly of Maharashtra State.
Central Home Minister Rajnath Singh appointed him as the president of BJP in Maharashtra unit. Fadnavis led the BJP party to won the elections in 2014. By this victory, BJP members choose Devendra Fadnavis as their Chief Minister Candidate.
On 31st October Devendra Fadnavis was sworn in as Chief Minister of Maharashtra. He was the second youngest Chief Minister in the history of Maharashtra after Sharad Pawar and His age is 44 while he took the oath.
Positions Held By Fadnavis in his Political Career
State Vice President, Bharatiya Janata Yuva Morcha (1994)
Nagpur City President, Bharatiya Janata Yuva Morcha (1992)
Office Bearer, Nagpur (West) BJP (1990)
Ward President, BJYM (1989)
Member, Nagpur Municipal Corporation, from 1992 to 2001 Mayor of Nagpur
National Vice President, Bharatiya Janata Yuva Morcha (2001)
General Secretary, BJP Maharashtra Pradesh (2010)
President of BJP state unit Maharashtra (2013)
Member of Maharashtra Legislative Assembly for four consecutive terms from 1999 to present.
Devendra Fadnavis Family
Devendra Fadnavis Parents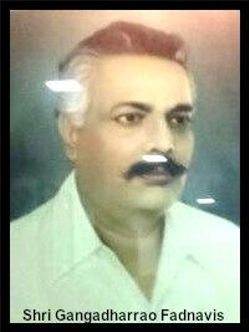 Devendra Fadnavis father was Gangadhar Fadnavis, He served as Member of Legislative Council from Nagpur city. He has died when Devendra was 17 years old.
Devendra Fadnavis mother Saritha Fadnavis came from Amravati, She belongs to Kalothi family. She was the former director of Vidarbha Housing Society.
Brother
Devendra Fadnavis has one elder brother, his name is Ashish Fadnavis. He also served in the RSS. After Fadnavis father demise Ashish took the charge of the family.
Devendra Fadnavis Wife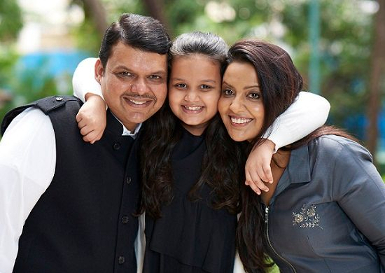 Devendra Fadnavis married Amrutha Rande in 2006. She is also from Nagpur. Amrutha Fadnavis was a singer and banker. Present she is working in Axis Bank and transferred her job from Nagpur to Mumbai branch when Devendra Fadnavis became the CM of the state.
Daughter
The couple had one Daughter, they named her as Divija Fadnavis.