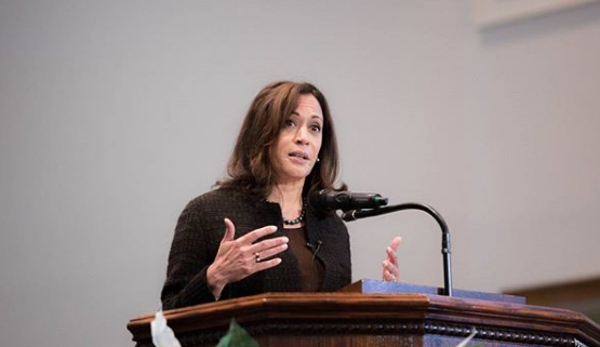 Kamala Harris Biography, Family
Kamala Harris is an American politician and lawyer. She became junior United States senator for California in 2017. Kamala Harris was Democratic Party member and she was former Attorney General of California served from 2011 to 2017.
Harris name is now trending in American politics when she officially announced her interest to go for 2020 United States Presidential elections as a Democratic Party presidential candidate.
Harris full name is Kamala Devi Harris, "Kamala" is a Sanskrit word which means Lotus flower. The lotus flower was a prominent thing in Hindu mythological stories such as it was the place where goddess Laxmi is seated.
Career
Kamala Harris was born 20 October 1964 in Oakland, California. She has Indian-Jamaican ethnicity from her parents. Harris mother is an Indian and father is Jamaican. Her parents divorced when she was seven years old. After divorce, Harris mother Shyamala moved to Canada and started doing research at Jewish General Hospital. Kamala and her sister grew up with her mother in Montreal, Quebec, Canada.
Kamala Harris did her schooling from West Mount High School in Westmount Quebec. Harris studied political science and economics from Howard University in Washington D.C.
In 1989 Harris earned Juris Doctor degree from Hastings College of Law which is affiliated to University Of California.
Harris began her law career in 1990. She served as a deputy district attorney for 8 years in Alameda County, California.
In 2003 Harris became District Attorney of the City San Francisco by defeating former attorney Terence Hallinan in San Francisco mayoral election and again she was re-elected in 2007 elections. The next year Harris announced she will go for California Attorney race in upcoming elections in 2010.
In 2010 elections Harris became California Attorney General by defeating Steeve Cooley of Republican Party. She was the first female and first Indian-American-Jamaican attorney general in California and in 2014 elections she was re-elected by defeating Ronald Gold of Republican Party.
The former United States Senator Barbara Boxer announced her retirement at the end of 2016. Harris announced her intention to run for Senate election. Harris was raised $2.5millions for her election Campaign. Kamala Harris was endorsed by President Barack Obama and Vice President Joe Biden.
In the election, Harris defeated Republican candidate Loretta Sanchez with over the 62% majority votes. Harris Sworn in as United States Senator On 3rd January 2017.
In 2016 Kamala's attorney general tenure, she filed pimping and conspiracy charges against classified website "backpage.com" CEO Carl Ferrer. After two years of investigation, Backpage and its affiliated sites were seized by FBI.
Harris sent a letter to mobile app developers in California to follow California Law and privacy issues. If any developer tries to broke the Law, he will be penalized $2500 for every download. In 2018 Harris questioned Facebook CEO Mark Zuckerberg over Facebook-Cambridge Analytica Data Scandal.
Harris wrote two books Smart On Crime: A Career Prosecutor's Plan to Make Us Safer and The Truth We Hold: An American Journey.
Kamala Harris Family
Parents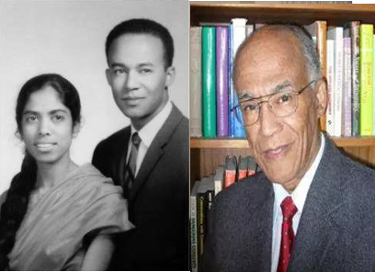 Kamala Harris mother Shyamala Gopalan Harris was an Indian from Chennai, Tamilnadu. Shyamala worked as a breast cancer scientist. In 1960 She was migrated to the United States. She died in 2009 with cancer.
Kamala Harris father Donald Harris was Jamaican, He worked as an economics professor at Standford University. He came to the US in 1961 to study economics at the University of California in Berkely, There he met Shyamala Gopalan and then they got married.
The couple got divorced when Harris was seven years old. Shyamala raised her two children alone.
Sister
Kamala Harris has one sister her name is Maya Harris she is a lawyer and TV commentator. Maya Harris married Toney West who is a lawyer currently working at transportation company Uber.
Kamala Harris Husband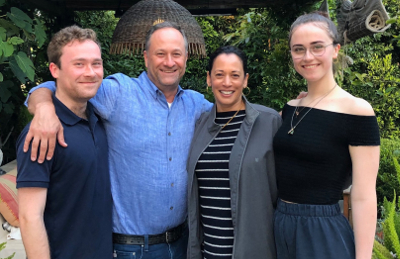 Kamala Harris married to California lawyer Douglas Emhoff on August 2014. The couple first met on a blind date set up by Senator Harris friends and shortly they formed a strong relationship and got engaged within one year of dating.  Douglas Emhoff is a partner in law firm DLA Piper and previously he worked as a managing director for Venable LLP.
Children
Kamala has two stepchildren with her husband Douglas from his previous marriage. Harris daughter name is Ella, she is studying at Parsons School Of Design and Harris Son Cole was graduated from Colorado College.
Awards
In 2004, Kamala Harris was honored as a "Women of Power" by National Urban League team.
In 2005 Harris received Thurgood Marshall Award from the National Black Prosecutors Association.
Harris has been featured on the Oprah Winfrey Show and in Newsweek magazine as "American 20 Most Powerful Women".
In 2018 Black Press honored Harris with Newsmaker of the Year Award.
Tags: kamala harris family, kamala harris wiki, senator harris family, senator harris bio