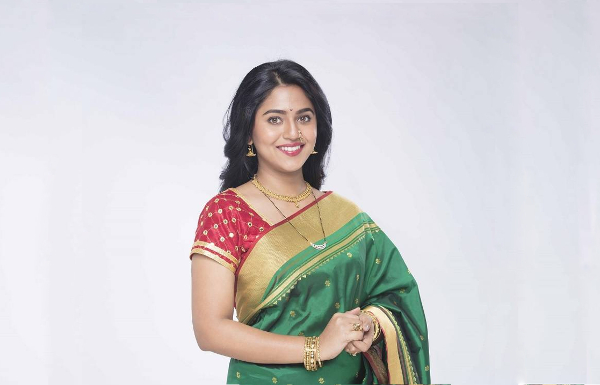 Mrunmayee Deshpande Biography, Wiki
Mrunmayee Deshpande is an Indian actress and dancer who prominently appears in Marathi movies and TV shows. Mrunmayee born on 29 May 1988 in Pune, Maharashtra. She did her schooling from Renuka Swaroop High school and she completed her graduation from S.P College (Sir Parashurambhau College) in Pune.
Career
Mrunmayee was born into a culturally rich family. Her mother was a dancer, So Mrunmayee was very keen to dance from her childhood. She began developed her interest gradually towards acting from her college days. Mrunmayee did some stage plays in her college.
Mrunmayee began her career with Bollywood film Humne Jeena Sikh Liya which was released in 2008. In 2009 Mrunmayee played the lead role in Marathi serial Kunku. In this serial Mrunmayee played the lead character of Janki, who was born in a small village and move's to Mumbai city after marrying a middle-aged man. Mrunmayee became popular with Kunku which was aired from 2009 to 2011. Mrunmayee acted in another Marathi serial Agnihotra which was aired in Star Pravah channel. In this serial, she worked along with Mukta Barve.
Simultaneously Mrunamayee did films while doing serials. Initially, she did supporting roles in movies, Mrunmayee did few movies as a protagonist such as Mamachyaa Gavala Jaaoo Yaa, Pune Via Bihar. Mrunmayee was played an informer role Kesar in the historic movie Farzand. Mrunmayee was a multi-talented person, She is an actor, dancer and She is doing anchoring for "Comedychi Bullet Train" show in Colors Marathi channel.
Mrunmayee Deshpande Family
Mrunmayee Parents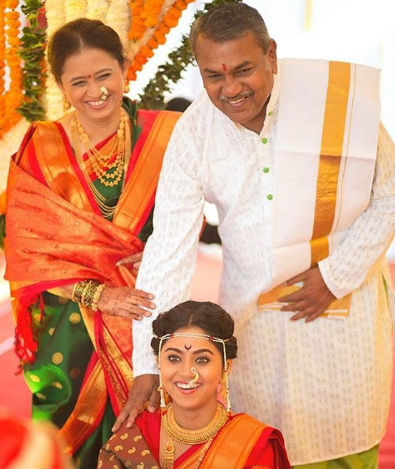 Mrunmyaee father name is Vivekh Deshpande and her mother name is Pratibha Vivekh Deshpande. Her mother was a dancer.
Mrunmayee Deshpande Sister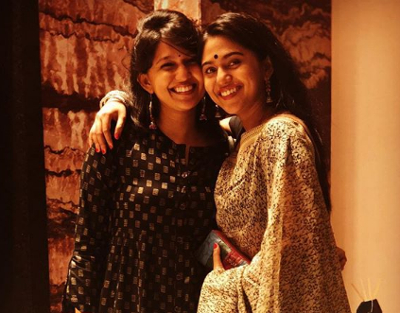 Mrunamayee has one younger sister, her name is Gautami Deshpande. She is a theatre artist and singer participated in "Super Singer" contest in 2016.
Mrunmayee Deshpande Husband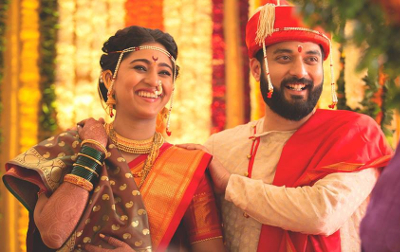 Mrunmayee Deshpande married to Swapnil Rao, He was an engineer and Entrepreneur. Currently, he is managing director of Marketing & Advertising company Mobizone Media.
Mrunmayee Deshpande Movies List
Humne Jeena Sikh Liya (2008)
Ek Cup Chya (2009)
Mokala Shwaas (2012)
Sanshay Kallol – Natyancha Gadbadgunda (2012)
Dham Dhoom (2013)
Aandhali Koshimbir (2013)
Pune Via Bihar (2014)
Sata Lota Pan Sagla Khota (2014)
Mamachya Gavala Jaaoo Yaa (2014)
Katyar Kaljat Ghusali (2015)
Natsamrat (2016)
Anuraag (2016)
Bebhaan (2017)
Navra Maza Bhavra (2013)
Farzand (2018)
Mrunmayee Deshpande Serials
Agnihotra (Star Pravah)
Kunku (Zee Marathi)
Tags: marathi actress mrunmayee deshpande, mrunmayee deshpande marriage, mrunmayee Deshpande wiki