Steve Carell Biography, Family
Steve Carell is an American actor, comedian, producer and director. He is best known for his role in the film The 40 years old Virgin and television sitcom The Office.
His birth name is Steve John Carell, he was born on 16 August 1962 in Concord, Massachusetts United States. Steve Carell father Edwin A Carell was an electrical engineer and Steve mother Harriet Theresa was a psychiatric nurse.
Career
Carell went to Nashoba Brooks School, The Fenn School and Middlesex School. He graduated in 1984 from Denison University in Granville. At college, he was a member of the improvisational comedy troupe Burpee's Seedy Theatrical Company.
In the beginning of his career, Steve worked as a mail carrier in Littleton, Where he used his car to deliver the mails. He quit the job in few months because he was too slow at delivering mails.
At the beginning of his career, Steve acted in many stage plays. In 1991 he moved Chicago and performed with The Second City. Carell made his first appearance in the film Curly Sue. In 1996 he was cast in The Dana Carve Show. Later he starred in few short-lived comedy television series and made guest appearance's in few sitcoms. Carell was a correspondent in news satire television program The Daily Show.
Steve Carell signed comedy series The Office with NBC network in 2005, In which Carell played Michael Scott character who was a regional manager in Dunder Mifflin Paper Company. The Office first season got average reviews. From the second season onwards the sitcom got positive ratings. The second and third season series became a huge hit. Steve Carell quit the series in 2011. For The Office series, Carell received Golden Globe Award and Television Critics Association Award.
In 2005 Steve Carell co-wrote and starred in Judd Apatow film The 40-Year-Old Virgin. It is a sex comedy film, Carell played leading role of Andy Stitzer who is a 40 year old virgin and works as a salesman. The film was highly appreciated by the audience and became a huge hit. The movie established Carell as a leading actor and he got MTV Movie Award.
After the success of The 40-Year-Old Virgin, Steve Carell shifted his focus mainly towards films. He has appeared in movies such as Little Miss Sunshine, Evan Almighty and Dan in Real Life.
In 2008 Carell starred in comedy action film Get Smart. The film was successful at the box office. Carell voiced for the animation film series Despicable Me, Despicable Me2 and Despicable Me3.
In 2014 Carell appeared crime drama film Foxcatcher, the movie story was inspired by Du Pont Family's true incidents. Carell played the leading role of John Eleuthère du Pont who was a convicted murderer. The movie was critically acclaimed and it was premiered at the Cannes Film Festival. Carell was nominated for Golden Globe Award and Academy Award for the best actor category.
In 2015 Steve Carell appeared in the biographical film The Big Short along with Christian Bale and Brad Pitt. Again Carell was nominated for Golden Globe Award for this movie.
In 2018 Carell was starred in biographical drama film Beautiful Boy, In this movie, Steve Carell played the role as father David Sheff whose son was addicted to drugs.
Carell announced that he was returning to television and he was starring in upcoming drama series The Morning Show.
Steve Carell Family
Steve Carell Parents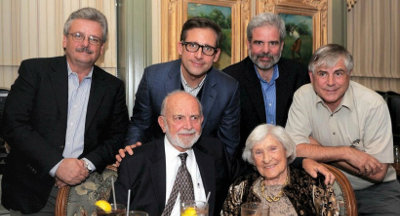 Steve Carell Father Edwin A Carell, was an electrical engineer and He is of Italian descent. Steve Carell mother Harriet Theresa is of polish descent and she worked as a psychiatric nurse.
Steve Carell Brothers
Steve Carell has three elder brothers. Steve's eldest brother Gregory Carell is an architect, second eldest brother Timothy Carell is an engineer and his third brother Michael Carell runs a landscaping business.
Steve Carell Wife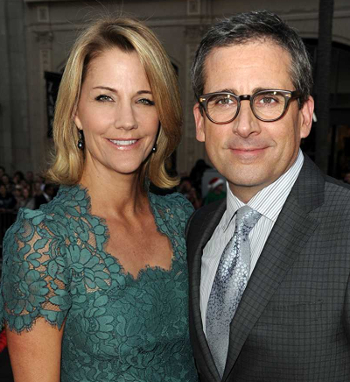 Steve Carell wife name is Nancy Carell, She is an actress and writer. Steve Carell met Nancy Walls at Second City, Where she was a student in improvisation class when Carell was teaching the same class. Soon they began the relationship and they got married on 5 August 1995.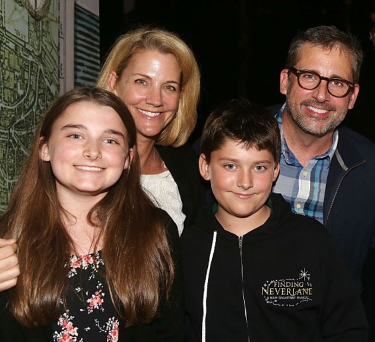 The couple has two children. Steve Carell, daughter Elisabeth Anne was born in May 2001 and Steve Carell son John was born in June 2004.