James Justin j.j watt also known as j.j watt is an American football player who plays for Houston Texans as a Defensive end.JJ Watt struggled a lot in childhood as he was born to hard-working parents. he used to work as a pizza delivery boy in his early days of career. His Mom taught him how to face challenges in his early Life.
JJ Watt Parents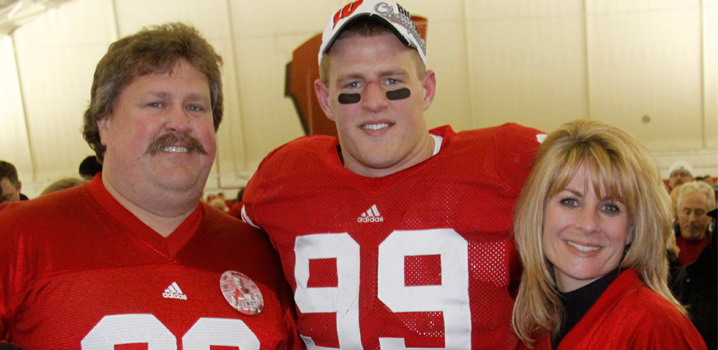 JJ Watt born on March 22, 1989, Waukesha a small Waukesha, Wisconsin. His Father name is john watt who used to work as Fire Fighter. Her Mother Connie used to work as Building Operations Vice President. JJ Watt has two brothers namely Derek watt and TJ Watt. Derek Watt is used to Play for San Deigo Chargers as FullBack, His Younger Brother T.J Watt is a football player at the University of Wisconsin.
JJ Watt With His Brothers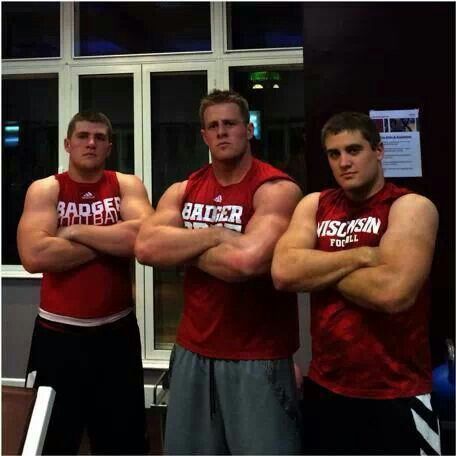 JJ Watt has started playing hockey from the age of Five years. He used to travel many countries as a part of tours when he was thirteen years old. He gave up Hockey because of his Financial Reasons. He also Played Football in his entire childhood and he selected football as his career.
JJ Watt Career
JJ Watt was very much impressed with the results which he got in his early career in Football and basketball. He was selected for first team all-state in his senior year. He won the Woodland Conference Player of the Year Award and first-team All-State, All-County, All-Area, and All-Conference selections as the tight end and defensive end. He also awarded as the Most Valuable Player for that particular Season. Recruiting agents named Rivals.com and Scout.com neither of them watt was ranked as the top tight end nor among the top defensive. Watt has official visits to Central Michigan, Colorado, and Minnesota. Watt has chosen to play for Central Michigan.
JJ Watt has started playing for Central Michigan and got a scholarship from that particular university. Watt has started Believing that things have turned his way. He Thought that as a tight end he can score more points. Watt has the controversy with his couch as his coach said to move offensive tackle. Watt was not impressed by his couch words and left the university and scholarship. Later he joined the University of Wisconsin where he played as a defensive end.
Introduction to Wisconsin
After Leaving Central Michigan he joined the University of Wisconsin in the year 2008. His formidable Performances has Earned him Wisconsin's Scout Team Player of the Year. Later in the year 2009, he appeared in 13 games as a Defensive end.JJ Watt Recorded great stats in his career when he played against Hawaii,h e scored three tackles for loss, six tackles,o one quarterback, and two sacks. Watt ended this season on a high with 32 solo tackles, 12 assisted tackles, four and a half sacks, 15.5 tackles for loss.in the year 2010 he has earned Ronnie Lott Trophy and Sports Illustrated second-team All- American, All-Big Ten first-team, Academic All-Big Ten, and was voted the team's Most Valuable Player.
Introduction to Professional career
JJ Watt entered into a Professional career with the 2011 NFL Draft. Watt has a terrific time by winning multiple categories except for 40-yard dash. In the same year, he was selected by Houston Texans. He earned a million dollar contract with Texans for a period of four years. Watt million dollar contract with Texans has changed their Fate in the year 2011 where Texans went to Playoffs for the First time.watt also named as Texans Team Rookie of the Year for the Year 2011.
JJ Watt turned the year 2012 on his own as he remained one of the best defenders in the year 2012. He was named as AFC Defensive Player of the week for September and December months. Watt has finished the 2012.season with 69 solo tackles, 12 assisted tackles, 20.5 sacks, 16 passes. Watt incredible performances made Texans reach the playoffs once again. Watt received NFL Player of the Year award and become the first person from Texans to achieve the award.
2013 has mixed results for Watt and his team as a result Texans remained in losing side for the season. Texans have expanded their agreement with watt for his performances in the year 2011 and 2012. Texans and Watt agreed to a six-year contract worth $100 million. This Made him one of the expensive players as non-quarter back in NFL.
JJ Watt also performed well in the injury lead 2015 season. He played all the matches in this year. He was named to the 2015 Pro Bowl for the fourth season and also received his third Defensive Player of the Year award.2016 is the worst year for watt as he undergone a back surgery. He just played three games in the year 2016.he was placed on injured reserve for the most of the time.
JJ Watt Charity
JJ Watt started a foundation named Justin JJ watt foundation. The motto of this foundation is "Dream Big Work Hard".this is a charity that provides after-school opportunities for children in various sectors.T he foundation has started in the year 2010 which has raised $1 million Funds. The majority of this charity operations runs in Texas and Wisconsin.