Shaun Marsh Biography, Family
Shaun Edward Marsh also is known as Shaun Marsh is an Australian cricketer. He was one of the profound batsmen in the Australian team. Marsh was an unfathomable player and his batting is difficult to understand.
He is the son of Australian former cricketer Geoff Marsh and elder brother of Mitchell Marsh. He plays for Perth Scorchers in Big bash league and Western Australia (Western Warriors) in domestic cricket.
Shaun Marsh was born on 9 July 1983 in Narrogin town of Western Australia. Shaun and his brother Mitchell went to Wesely College in Perth.
Career
Shaun Marsh was introduced to cricket at an early age. He grew up with travelling with his father Geoffrey Robert Marsh, the former opening batsman. Marsh was exposed to cricket while travelling with his father. Visiting different international cricket grounds and watching net practice sessions were his daily routine in his childhood. These things are made Shaun Marsh into an enigmatic cricketer.
Shaun Marsh represented Western Australia in Under-17 level. He played two Under-19 World Cup leagues in 1999 and 2001.
Marsh represented Western Australia team in domestic cricket. In 2008, Shaun Marsh made his debut century in Ford Ranger Cup and became a top run scorer for Western Warriors.
In 2008 Shaun Marsh signed a deal in the IPL (Indian Premier League) for Kings XI Punjab team. He played as an opening batsman and recorded as the highest run scorer in the league. He received Orange Cap for scoring most runs in the season.
Marsh made his international debut in 2008 in a T20 match against West Indies, where he scored 29 runs from 22 balls. A few days later Marsh made his international debut against West Indies team, where he scored 81 runs from 97 balls and he received Man Of the Match award for his performance.
With the retirement of Australia's famous opening batsmen's Adam Gilchrist and Mathew Hayden, Marsh was promoted to top order as an opening batsman. Marsh was unstoppable at the opening position, In his first 10 matches, Marsh scored five half-centuries and a century.
Marsh made his Test debut in 2011 against Sri Lanka. He played with a baggy green cap which was presented by his father. Marsh made a century in his debut test match, He scored 141 runs and established 258 runs partnership with Michael Hussy.
In 2012-13 Big Bash League, He scored five half-centuries in 9 innings and he became the top scorer in the series. Also, Marsh was one of the most demanding players in the IPL.
Shaun Marsh Family
Shaun Marsh comes from a sports background family.
Shaun Marsh Parents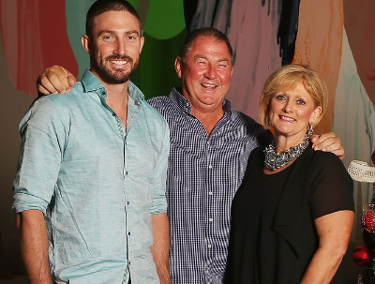 Shaun Marsh mother name is Michelle Marsh. Shaun Marsh father Geoff Marsh is a former cricketer, Coach and worked as a selector in Australian Cricket Board.
Siblings
Shaun Marsh younger brother Mitchell Marsh is also a cricket player, He played all three format cricket for the Australian team. Mitchell and Shaun both are played for Western Australia in domestic and now currently they are playing international matches for the Australian team.
Shaun Marsh sister Melissa Marsh is a former basketball player. She played Australian women's national basketball league from Perth Lynx, Adelaide Fellas.
Shaun Marsh Wife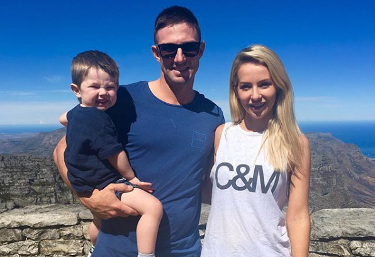 Shaun Marsh wife Rebecca O'Donovan is a journalist working on Channel 7. She was a participated in Miss Universe contest. They were in a relationship from 2013 and got married in 2015. The couple blessed with a baby boy.
Shaun Marsh son Austin Ross March was born in 2016.
Tags: Shaun Marsh biography, Geoff marsh family, Shaun Marsh family, Shaun Marsh son, Shaun Marsh cricket, Shaun marsh son, Shaun marsh career